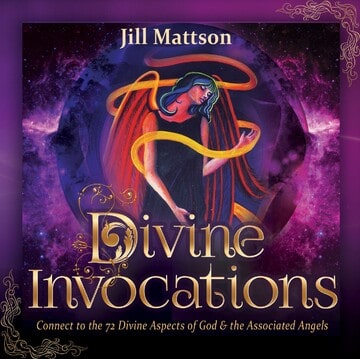 An experience, unlike anything you have ever felt before… Certain Words possess great power, as do special Frequencies of Sound. This work has BOTH! Bask and soak in the pure divine energy produced from sounding God's Names in a long-extinct language. Mattson has recaptured Divine Aspects of God, encapsulated in 72 Names, each linked intimately with an Angel. Each essence of God is expressed in an ancient Sound Code of four unique tones. Pitch and pronunciation are faithful to the original.
With the enunciation of each Name, a powerful wave of energy emanates forth. Each of the 72 Invocations expresses a divine attribute of God and connects to a dedicated Angel – who embodies the blessing. Receive and reset Godly Virtues, such as Great Compassion, Faith, Strength, Forgiveness… 72 in all. Nourish your soul and elevate your energy and well-being in unrivaled pristine energy. Attain great virtue!
61 Minutes total contained in 9 tracks.
Enjoy the Divine Invocations music by Jill Mattson. Please vote in the COVR contest! I thank you for considering this sacred sound alchemy as your choice. Vote here!
To Download the mp3 Musical Files
1. Click on the MP3 Button
2. You should see an expressed zip file (it looks like a brown box with a purple and green z)
3. Click on the express zip box
4. You will have two options. Click that Express Zip is being used for non-commercial home use only
5. Now you will see the mp3 music files, Click on them and drag them to your desktop.
6. Click the files to play
The Abulafia pronunciation of the 72 Names of God and their associated Angels has been preserved throughout the Ages. Jill has trained in its ancient pronunciation. For each of the 72 Holy Names, there are Sounds of the Angels (4 pitches), Planetary Orbit Tones, tones associated with the Zodiac Signs, and Frequencies of Herbs, Gemstones, and Elements. The sounds of these things contribute to the energy of these soundtracks!
Abulafia Pronunciation of Names of God, and Associated Angels
"Dear Jill, Your music is amazing. I chanted and received while listening. I just took a couple of regular photos of myself and saw a starburst of brilliant light sweeping in and around my body. There were sweeping lines of pastel colors of light around my body too. I believe the music has brought this light to me!" – Love, Cindy.
"Jill, OH! This is truly beautiful and sacred work." – Dyan
"The Other Beautiful Thing about this music is that It keeps playing even after turning off the player. In the ethers. Some music does that. Yours does." – Pamela G